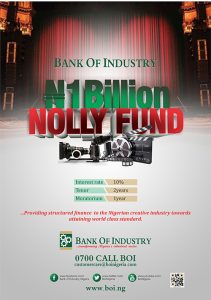 The Bank of Industry (BOI), in its bid to salvage other sector s of the economy in order to improve their contributions towards Nigeria's GDP, has raise various funds targeted SMEs with the aim of expanding their asset-base to enable them carry on projects of larger scale. The film sector of the entertainment industry is not any less, an emerging sector which contributed 1.42% ($7.3 billion or N1.4 trillion) to Nigeria's Re-based GDP in 2013.
This is the rational behind the Nolly Fund. The Fund is to support film makers/producers by providing the needed financing required to grow the film industry and make bigger impact in the sector. Nollywood now ranked 3rd in the market after Hollywood (America) and Bollywood (India) in terms of number of contents produced.
The Fund will be accessed by Companies engaged in film production. The fund shall be used for film production value chain (i.e. from pre-production to post-production). To support this process and ensure that only commercially viable scripts with good storylines will benefit from the scheme, the Bank has set up a Project Implementation Advisory Group made up of two (2) cinemas management experts, one (1) national film distributor, two (2) production and post-production experts, two (2) film critics/reviewers, two (2) film producers and a Banker.
FUND TERMS
FUND SIZE
The total size of the Nolly Fund is N1.0 billion however a single obligor is limited to a maximum funding of N50.0 million.
The first tranche of the Fund is projected to create a minimum of 2,000 direct and 5,000 indirect jobs for Nigerians engaged in film production value chain.
FUND PRICING
1% Processing fee (full payment at approval)
1% Commitment Fee (full payment on acceptance of loan)
Quarterly Monitoring Fee of 0.125% of outstanding Principal
Interest rate: 10% per annum payable at the end of every month.
TENOR
Maximum of one year commencing at the end of the moratorium period.
MORATORIUM
Six (6) months (with option for additional (3) three months) from date of loan disbursement.
APPLICATION PROCESS
Customer requests for the facility and if approved an offer is made by BOI to customer based on approved terms and conditions.
Customer accepts the offer and meets all conditions precedent to draw down.
Disbursement is done in phases in accordance with agreed milestones.
WHERE TO SUBMIT REQUESTS
Applications can be submitted at any of the participating banks, however the Bank of industry (BOI), has a number of existing accredited Business Development Service Providers (BDSP) and applying through this Organisations who have been well briefed on all BOI requirements can increases your chances and speed up the application process