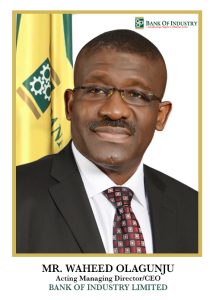 The managed funds under the portfolio of the Bank of Industry (BOI) has hit N44.6 billion as at the end of 2015 financial year. The funds have however risen above the figure considering various Memoranda of Understanding sealed with its stakeholders since the beginning of 2016.
Some of the funds managed by the Bank as at December 31, 2015 include the N8.12 billion National Automotive Council Fund, N2.9 billion Dangote Fund, N12.3 billion Rice Processing Fund, N12.5 billion Cement Fund, N1.8 billion National Sugar Industrial Development Fund, N1.48 billion Federal Department of Agriculture (FDA) Cottage Fund as well as other funds managed in partnership with other state governments.
Ag. MD/CEO, Mr. Waheed Olagunju stated that as part of measures to rev up its operations, the bank is strengthening its collaboration with its foreign and domestic partners including community-based organizations to deepen the bank's credit delivery process and financial inclusion initiatives. According to him, the bank is on course in 2016 to surpassing the N83.5 billion that was disbursed in 2015.
Already, the Bank has disbursed N95 billion to 400 enterprises in the first half of 2016.Besides, a breakdown of the bank's earnings for the year showed that the Bank recorded a profit after tax of N47 billion for the year ended December 31, 2015, representing an operating profit of N11.9 billion up by 100 per cent from N6 billion achieved in 2014 and an exceptional income from the gain on sale of some equity securities of WAMCO shares.
"As at the middle of the current year the bank had approved loans totaling N95 billion to more than 400 enterprises and is working assiduously to approving more loans in the second half of 2016 and ultimately meeting the institution's disbarment target of N212 billion that could potentially lead to the creation of almost 1 million jobs in addition to the 1.6 million projected under the Government Enterprise and Empowerment Programme", he said.